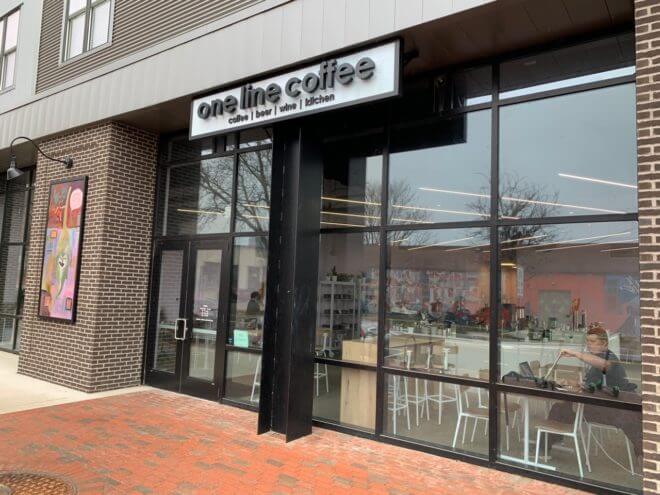 One Line Coffee-Franklinton
OPEN FOR DINE-IN AND CARRYOUT
Our newest retail store is in the Franklinton Neighborhood at the western end of the Scioto Mile. Our 2500 square foot venue is first and foremost the continued evolution of our passion for retail coffee service. From high extraction grinders to high precision dosers to "mini" batch brewers, the store represents how we think coffee should be served. However, this store is also a departure from the norm. Along side your single origin espresso and slow-dripped Kyoto, you'll find a unique selection of fine wines by the glass, 11 Ohio beers on tap, and a made-to-order breakfast menu, and house-crafted pastries created by our head chef Roxy Gilmore.
On the coffee side, we always have multiple coffees available as batch, pourover, and espresso! Pulled on our Slayer Steam LP using a Compak PKF, our single origin espresso are an amazing exploration of the work a farmer does. We have multiple seasonal and signature beverages available, all with a focus on complimenting the coffee, all made using ingredients and syrups crafted in-house. We also have a dedicated tea program, using teas and tisanes from our partners at Spirit Tea and Petali Tea. Our teas are dosed and brewed using the same care as our coffee, always at the right temperature and time.
Our kitchen acts as a home base for our pastry production for all three of our locations. We are a 100% scratch kitchen, with everything made in-house from simple, wholesome ingredients, and no vegetable or seed oils. We only use butter, olive oil, and avocado oil. We have a focused menu of breakfast items, featuring our BYO breakfast sandwich and our breakfast burrito, as well as a small snack menu for the afternoons and evenings. The kitchen operates 7 days a week to keep us continuously in fresh pastries.
Our house-brewed Nitro is offered at on tap, along with eleven Ohio craft beers. We always have a few local beers that use One Line Coffee as an ingredient, like Wolf's Ridge's award-winning Daybreak. A small, unique selection of red, white, and rosé wines are sold by the glass or by the bottle…and don't forget our Happy Hour which runs 2 to 6 pm seven days a week and offers $1 off ALL beer and wine pours.
We carry a full selection of our One Line Coffee whole bean pouches ready to stock your home coffee bar. A selection of home brewing equipment and supplies are also available available.
Visit us at:
471 West Rich Street
Columbus, Ohio 43215
Phone: 614.929.5877
Hours:
Mon-Thur: 7 AM-9 PM
Friday: 7 AM- 9 PM
Saturday: 8 AM-9 PM
Sunday: 8 AM-8 PM