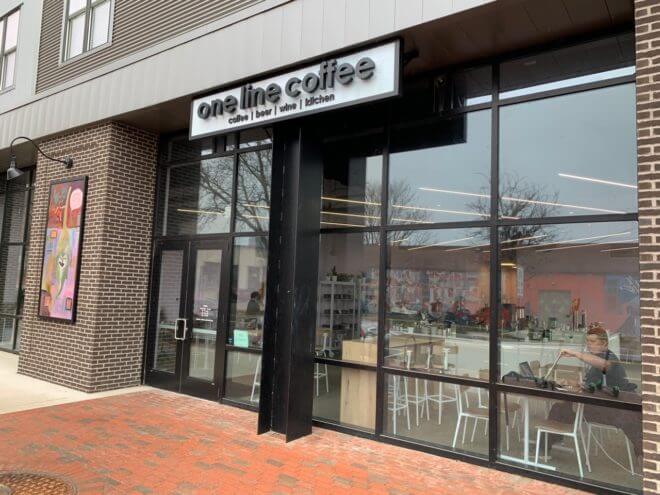 One Line Coffee-Franklinton
OPEN FOR DINE-IN AND CARRYOUT
We're pretty excited to be back! For the safety of our crew and customers, masks are required for entry. (Our Take-Out App will be fully functional for those who can't wear a mask! Call us when you arrive and we will bring order to the curb.)
We have re-configured our space and installed new social distancing floor stickers to direct customer lines and assure proper one-way foot traffic. Customers can only remove their masks when seated at their table. 
Arguably…the most well-equipped and elegant coffee bar in the city!
Our newest retail store is in the Franklinton Neighborhood at the western end of the Scioto Mile. The 2500 square foot venue is home to coffee…beer…wine and kitchen. Make no mistake about it, though, this is coffee centricity taken to the extreme.  The expansive rectangular central bar continues the concept of "Coffee is Theater" first introduced at our Short North Store. Travel round the theater to view our own OLC Kitchen pastry and snack display case…place orders at our twin POS stations…watch while specialty frozen and iced drinks are prepared…discuss wine and Ohio craft beer selections at the tap station…and end your tour at the pour-over and barista stations.
Enjoy espresso pulled from one the great machines in the coffee world, the Slayer Steam LP, or watch our baristas use that espresso to create beautiful art on a latte or cappuccino. We even offer a single origin chocolate from Askinosie to sweeten up your beverage as well as a selection of signature espresso beverages…including the ever popular honey latte. You may have heard about our Kyoto Drip Towers which we use to brew some of the best cold drip coffee available…check those towers out in our customer area.
The One Line Coffee Kitchen offers a selection of home-baked morning pastries, snacks and special small plates to go along with afternoon and evening beer and wine offerings.
We carry a full selection of our One Line Coffee whole bean pouches ready to stock your home coffee bar. A selection of home brewing equipment and supplies are also available available.
For tea connoisseurs, we offer a selection of 10 high-end teas, brewed at the perfect temperature, all of which a tea lover can embrace. Our Nitro Coffee and Cold Toddy are offered at our Tap Station along with ten Ohio craft beers. We have included a selection of local beers that use One Line Coffee as an ingredient. A small selection of red and white wines are sold by the glass or by the bottle…and don't forget our Happy Hour which runs 4 to 6 pm weekdays and offers $1 off ALL beer and wine pours.
Visit us at:
471 West Rich Street
Columbus, Ohio 43215
Phone: 614.929.5877
Hours:
Mon-Thur: 7 AM-8 PM
Friday: 7 AM-10 PM
Saturday: 8 AM-10 PM
Sunday: 8 AM-8 PM