×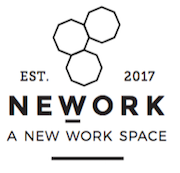 Nework- A New Work Space (Newark, OH)
Address:
14 N Park Place
Newark, Ohio 43055
847-344-1926
www.neworkspace.com
hours of operation:
Member Hours: 24/7/365
Guest Hours: Monday thru Friday- 9 AM to 5 PM
Are you an entrepreneur, freelance professional, commuter or student who wants to be part of a new, engaging business community in a beautiful downtown workplace?
 
NEWORK Space is a completely furnished and equipped physical hub for the local entrepreneur and business community. It allows professional freelancers, small businesses, entrepreneurs, commuters, academics and students to work in an affordable, professional environment with other people who may have complimentary skills and experience. It is a three-story, 6,000 square foot renovated office space in a historic building that provides a variety of seating arrangements and rooms for smaller and larger meetings and events.
NEWORK Space is a place to build your business and leverage partnerships to gain access to customers, capital, expertise and skilled talent. Members have access to floating seats, dedicated desks, private offices, meeting rooms and event spaces. With affordable, flexible payment options you can become a member of Nework Space and a part of the community. There are also guest day passes available.
Did we mention that they are serving One Line Coffee? We are so proud to be associated with this awesome space located in the new Newark, Ohio City Center where the streetscapes project was recently completed. We also love that it is located only steps from River Road Coffeehouse On The Square. What could be better than an office space like that?